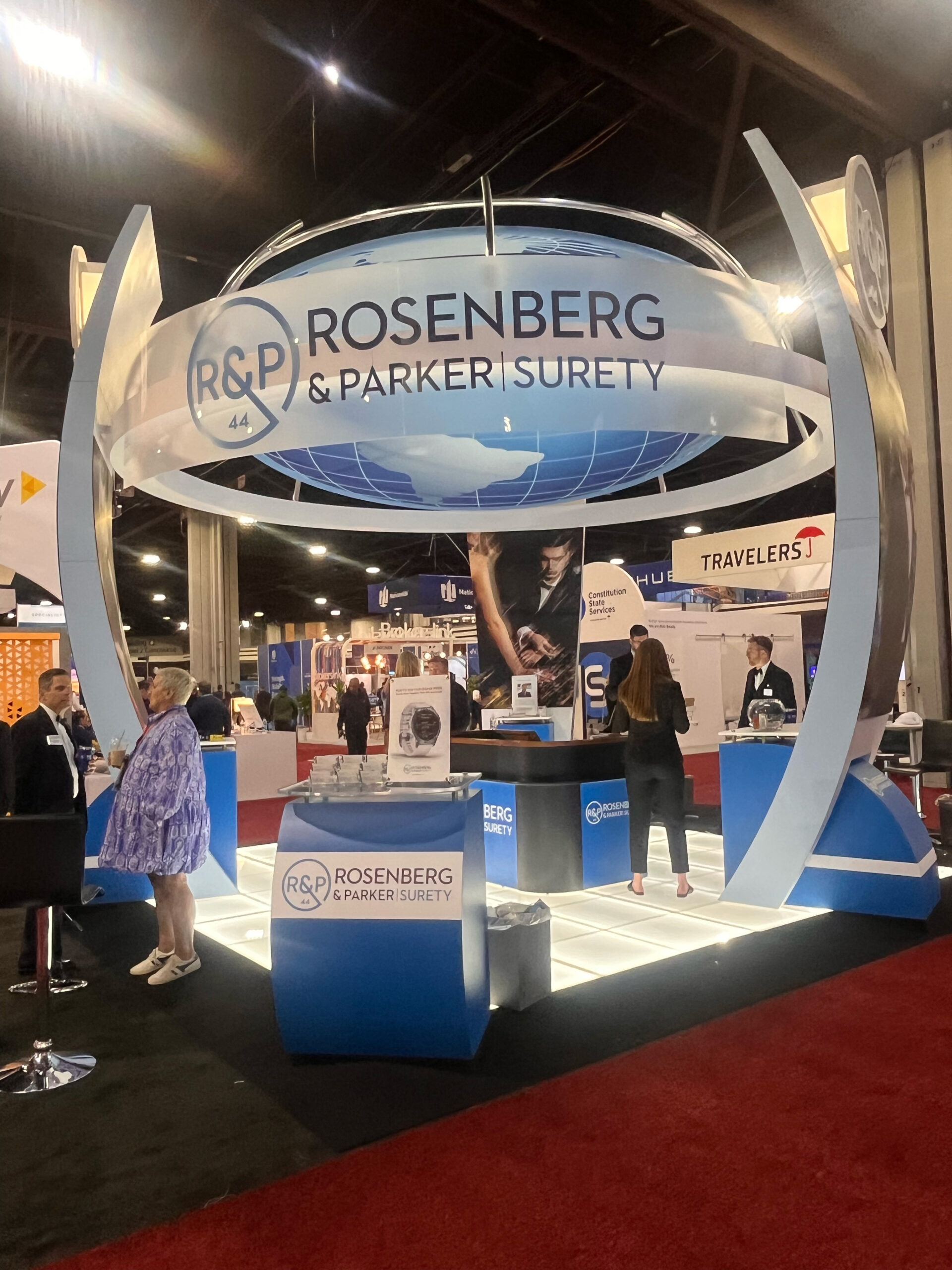 RISKWORLD, the annual RIMS National Conference & Exhibition, was in Atlanta, GA April 30 – May 03, 2023 and Rosenberg & Parker was proud to be both an exhibitor and a sponsor again this year! After managing and maneuvering with the COVID restrictions in San Francisco in 2022, it was great to attend and exhibit at this fully open and unrestricted one-of-a-kind Risk Management event.
After bringing an Aston Martin to RISKWORLD 2022, R&P brought back our original 20×30 Bond Booth – gaming table and all. Our infamous poker chips were included in every Rosenberg & Parker registration bag, sending Risk professionals to our James Bond Casino Royale-themed booth to try their luck at rolling the dice that would spell SURETY and enter them to win the grand prize – a Garmin Watch!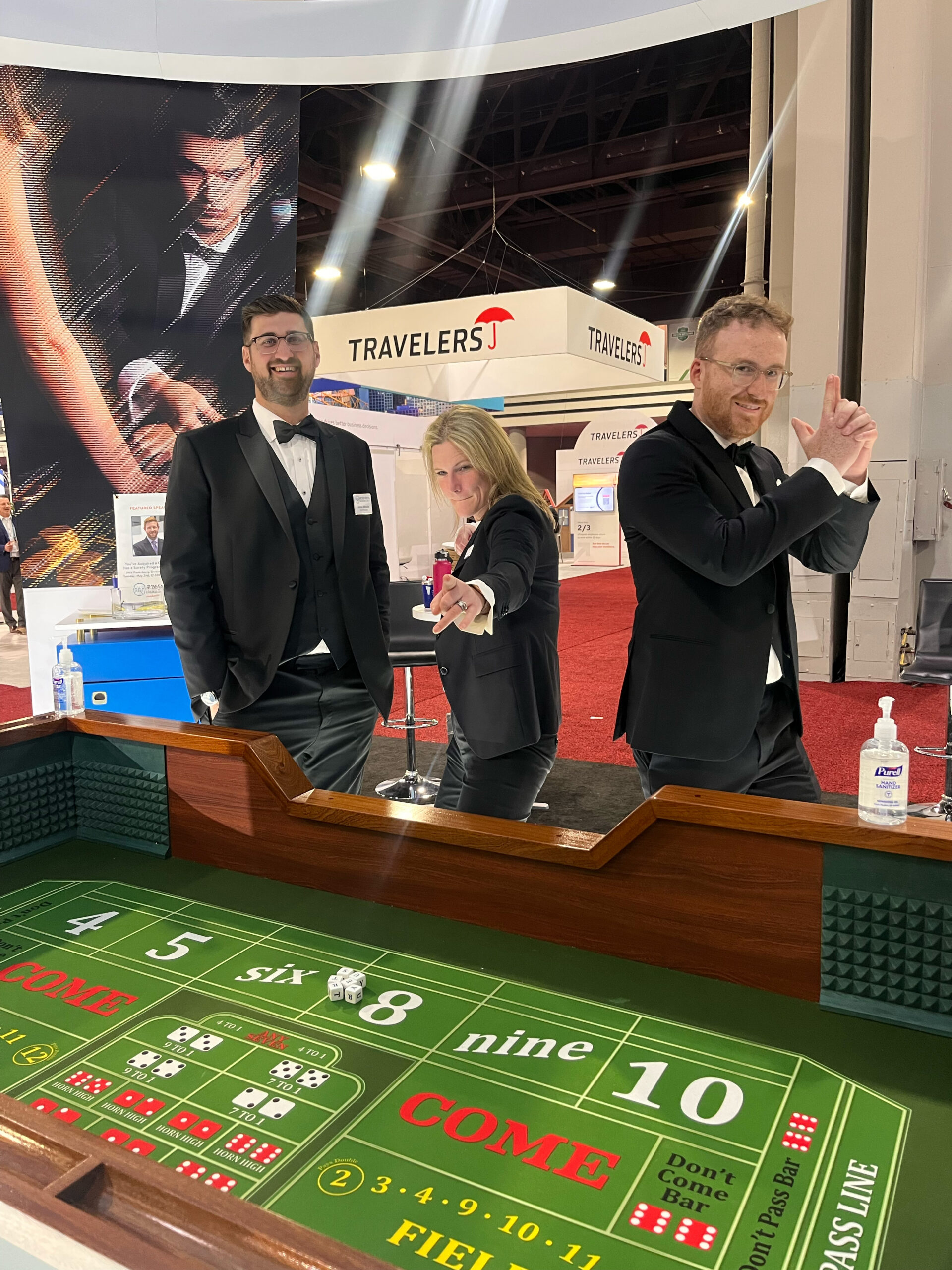 Manning the booth were members of our Bond Team – Matt Rosenberg, Elizabeth Cervini, Chad Rosenberg, James DiSciullo, Jack Rosenberg, Austin Trimbur, Lindsey Arellano, Cameron Byrne, and our newest member – Kayla McAneney. Kayla comes to us from Liberty Mutual, having served as a Commercial Surety Underwriter for five years after graduating from James Madison University with a Bachelor of Business Administration in Finance.
Being new to Rosenberg & Parker, and new to RISKWORLD, Kayla offered a unique perspective about the experience in the exhibit hall, saying, "I didn't really know what to expect walking in there. The first thing that stood out to me was that the exhibit hall was way more elaborate than I could've imagined in terms of the creativity and planning that goes into putting together these booths." With well over 200 exhibitors this year, it is easy to imagine how initially overwhelming the hall can be to a newcomer.
While the exhibit hall itself is a lot to take in, working in the booth can also be A LOT. RIMS has over 10,000 people attending the conference annually, which means a steady stream of people to meet and greet. With exclusive exhibit hall hours multiple times a day, team members are kept on their toes while on booth duty.  Kayla managed to acclimate easily, with a little help from her colleagues, commenting, "Everyone [in the booth] made me feel very welcomed and were great about introducing me to people. It was great to see all of the Producers in action doing what they do best – out there talking to potential clients."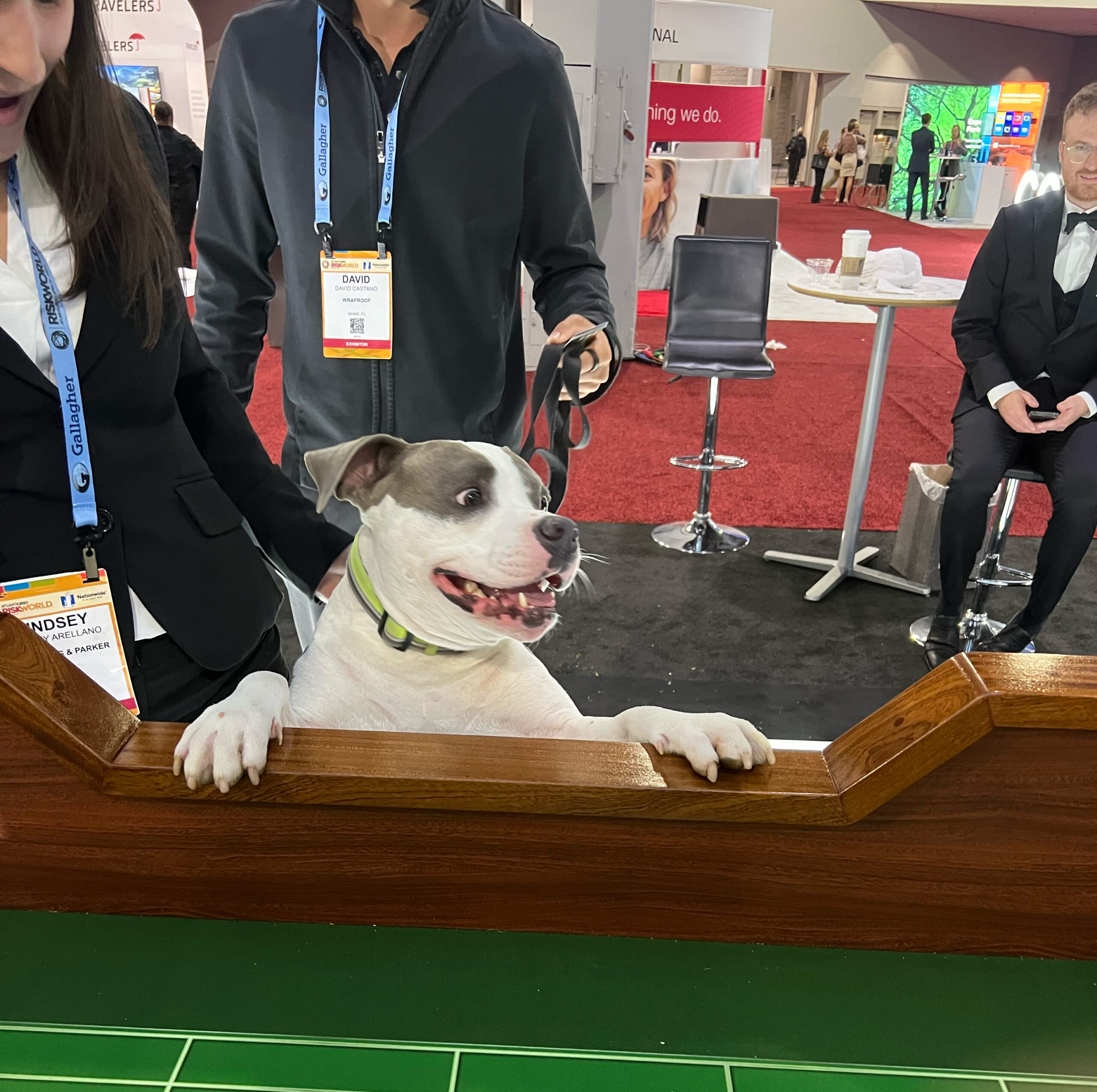 A big highlight for everyone in our booth was Arius, the pup who came to visit and brought his smile to the table! Kayla was definitely excited to see him, saying, "There was a gentlemen walking around the exhibit hall with a dog and whenever he would walk by, you just saw everyone's face light up and run over to pet him. [At one point] the dog got so excited that he tried to jump onto the craps table – I guess it looked like a giant dog bed to him."
There was plenty to see and do outside of the exhibit hall at RISKWORLD – almost 250 educational sessions were offered during the conference. Our very own Matt Rosenberg conducted a session entitled "Surety: The Claims Process", with a distinguished panel including Christie Weinstein, Director of Risk Management for Honeywell, and Douglas Wills, Esq., VP & Surety Claims Officer for Chubb.  Jack Rosenberg also conducted a session entitled "You've Acquired a Company That has a Surety Program – Now What?" Both Rosenbergs were honored to be chosen as speakers and enjoyed educating their audiences about different facets of the surety industry.
"RIMS is back! It was great to see everyone come out and come together again after the last few years of having to be virtual. It was great to be with everyone in person again!" Jack said about speaking at RISKWORLD.
In addition to all of the educational and business opportunities at the Georgia World Congress Center, after-parties and social activities abound after 5pm. Our Bond Team made sure to make appearances at a variety of planned events, happy hours, and hotel bars, mingling with as many old friends and new acquaintances as time would allow. 
"RIMS always seems to be a marathon with four full days of meetings and networking; this year in Atlanta was no different. There is nothing like seeing colleagues, partners, and old friends at RIMS," said James DiSciullo about his time at RISKWORLD.
And though this year's conference has come to a close, the Bond Team at Rosenberg & Parker looks forward to continuing to strengthen ties with those that we connected with in Atlanta. We also look forward to seeing everyone at RISKWORLD 2024 in sunny San Diego!